Samsung Galaxy S6 Active Review
56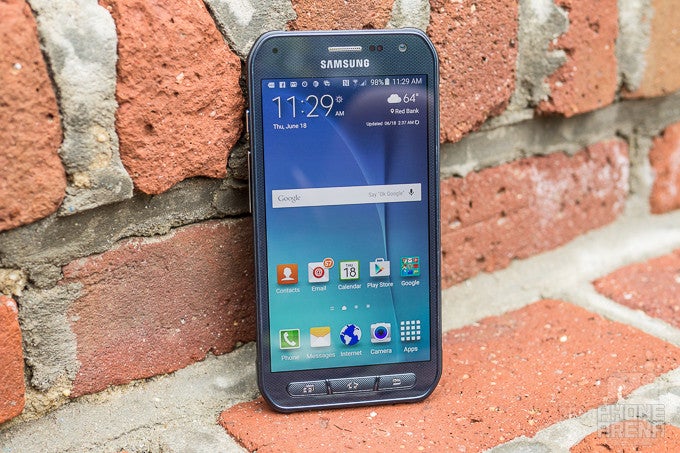 Introduction
This year's
Galaxy S6
saw a major redesign, one that's highly acclaimed and showed to all of us that the South Korean company knows how to design premium smartphones. While the new, premium nature of the Galaxy S6 is a new direction, it sheds one of the key design qualities offered by its predecessor – a water-resistant construction. For a moment there, we thought that water-resistant designs would become a staple feature for Sammy's flagship line, but alas, that's not the case.
Since the
S4
, however, we've seen Sammy introducing its Active line, which manifests in the form of ruggedized variants of its flagship phones. So, if you were bummed by the S6 forgoing a water resistant construction, then you'll undoubtedly be pleased to find it here once again with the
Samsung Galaxy S6 Active
. Not only that, but the phone is built like a tank – so fear not if you drop it!
There are some advantages with the Active, naturally, as well as some compromises too, which we'll check out in detail through the review. Internally, the Active shares many of the specs of the S6, but superficially on the outside, it's a totally different phone.
The package contains:
Galaxy S6 Active
Wall charger
microUSB cable
Quick start guide
Health & Safety and Warranty Guide
Design
Hello water and drop resistant construction, the S6 Active is designed to handle life.
At a glance, the Samsung Galaxy S6 Active looks very much like last year's model, one that shares the same tough construction. Comparing it to the S6, though, there's no arguing that the S6 Active is meant to withstand serious punishment – whereas with the S6, its premium construction kind of makes it fragile.
Sporting that all too predictable rugged design, it's clearly within what we'd expect out of a tough smartphone. Most of the body is comprised out of tough plastic, broken down to a rubbery textured camo back pattern and a sturdier matte frame outlining the sides. Superficially, it looks almost like an exact facsimile to last year's Active, but this one is a closed design – so there's no removable back cover to access its battery. Accentuating its rugged form are the screws found near the corners of the phone.
Thanks to its IP68 rating, it means that this bad boy is meant to handle nearly anything that everyday life has to throw at us. Therefore, that means it's shock resistant, dust proof, and water resistant up to 1.5 meters for up to 30 minutes – the essential ingredients in giving it that sturdier protection than the S6. One less thing to remember: you'll be pleased to know that Samsung has improved the design, because there's no longer need to cover the microUSB port with a flap. Instead, you'll notice that the port is wide open, but there's no fear in dipping it in water because the port has been treated to be water resistant.
During our review, we dropped it onto concrete pavement by accident, resulting in some noticeable scuffs along the plastic sidings of the phone. True to its claim, it survived the fall, but the downside in this is that being pristine looking isn't going to be on the top of the list for this one.
Aesthetically, though, it's just a very ordinary 'ruggedized' looking phone just like everything else out there. Sure, Sony has perfected the recipe for designing a premium looking phone that's water resistant, but Sammy's stance is more form than function – and to that degree, they succeed. It won't win any awards for design, obviously, but nevertheless, its solid construction endows it with structural integrity to withstand all the unpredicatablities of life.
Were you not a fan of those capacitive Android buttons on S6? Well, the S6 Active now employs nothing but physical Android buttons for that true, tactile response. Sadly, there's no finger print sensor whatsoever with this, so not only is there no option for unlocking the phone via fingerprint, but it won't benefit from Samsung Pay either. Other minor changes include a nanoSIM slot (no SIM removal tool necessary), 3.5mm headphone jack repositioned to the top edge, and the speaker placed on the back side of the phone.
At the same time, too, the S6 Active continues to offer some of the S6's staple features – like its heart rate sensor to measure our pulse, rapid charging microUSB 2.0 port, and wireless charging. Even though there's still no expandable storage with this, it gets greeted to an even heftier sized 3500 mAh battery. While the power button and volume controls are in their usual locations on the sides of the phone, there's another button found above the volume controls – it's the Active key. More on that later!
Display
Samsung has perfected the art of making gorgeous displays, and the S6 Active has so many impressive qualities about it.
Samsung hit it out of the park with the Galaxy S6 and S6 edge, proving to the naysayers that AMOLED displays can deliver top-quality results in all fronts. For the Galaxy S6 Active, they've outfitted it with the same 5.1-inch 1440 x 2560 (QHD) Super AMOLED panel. By now, we know that details are astoundingly sharp with such a high pixel density count, but the top-notch qualities extend to other areas.
In particular, it follows the S6 with its true-to-life colors, spot-on color temperature, and sheer brilliance in all sorts of lighting conditions. They really didn't mess around with the recipe, evident by its 6521K color temperature, which is only a couple steps off that ideal reference value of 6500K. Bearing that in mind, it essentially means that the display exhibits a neutral tone – neither cold nor warm. Not stopping there, it bears the quintessential qualities that are typical AMOLED, such as its wide viewing angles and perfect black color reproduction.
Speaking of color reproduction, it's identical to the Galaxy S6, making it impressively accurate in replicating various shades. Besting its siblings, the display here in the S6 Active produces a blinding 570 nit luminance, thanks in part to its high-contrast mode kicking in when it's used in direct sun. Overall, we have very few complaints about it, plus, its basic display mode shows it's perfectly calibrated too – while adaptive mode adds some punchiness to the mix.
Display measurements and quality
Recommended Stories