Samsung Galaxy S5 rumors, Microsoft's new CEO, and the red Nexus 5: Weekly news round-up
1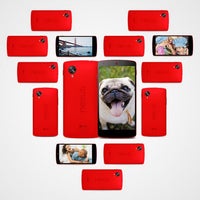 The day when we'll get to see the
Samsung Galaxy S5
in the flesh is getting nearer and nearer. The phone could be announced later this month, for that matter, as invitations for an Unpacked event have already started to fly out. This upcoming event, however, isn't likely to be staged like a Broadway show. Instead, what we're expecting to witness is a short, low-key announcement. Rumor has it that multiple variants of the Samsung Galaxy S5 will be launched, and that the phone won't have any sci-fi-flick-inspired tech on it, so you can rule out those eye scanner speculations.
In other news, Microsoft announced its new CEO last week. After 14 years of leading the company, Steve Ballmer has been succeeded by Satya Nadella – former vice president of Microsoft's Cloud and Enterprise group.
"A big part of my job is to accelerate our ability to bring innovative products to our customers more quickly,"
Satya stated. He has yet to unveil any specific strategic plans that could shape the company's future, however.
And here's something you should be aware of if you're still looking for a Valentine's Day gift for your sweetie. Last week, Google announced a red Nexus 5 model and you can grab one online for the same awesome starting price of $350.