Samsung Galaxy S5 specs leak: 5.24" Quad HD screen, 3200mAh battery
99+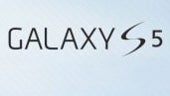 *Update:
Another
leak coming from the New York Times casts doubts on this
, and claims the Galaxy S5 will actually launch without earlier rumored fancy new features like the Quad HD display or eye scanner. Instead, it is now said to be a milder improvement over the Galaxy S4, and retain a 1080p display.*
Samsung nigh-confirmed that it will officially
announce the Galaxy S5 on February 24th at the Mobile World Congress in Barcelona
with those
'Unpacked 5'
invitations it sent out to the media yesterday, but there was one man who
warned us about the earlier than expected launch nearly two weeks ago
.
We're talking about Russian insider and blogger Eldar Murtazin, and now he claims he knows the exact specifications of the upcoming Samsung Galaxy S5.
Samsung's 2014 flagship is said to come with a 5.24-inch screen with a whopping 2560 x 1440-pixel, Quad HD resolution. If true, this would make the Galaxy S5 the first Quad HD smartphone in the Western hemisphere (the
Vivo Xplay 3S outpaced it to become the first Quad HD smartphone in the world
, but it's availability is limited to China). This would also make the Galaxy S5 the world's first smartphone to break the 500ppi barrier, as its pixel density comes in at 560ppi.
Moreover, the Galaxy S5 should feature a whopping 3200mAh battery, and hopefully, an increase in battery life. In comparison, last year's Galaxy S4 came with a humbler, 2600mAh battery, but it also features a smaller display with a lower resolution.
Interestingly, the phone is rumored to come with increased internal storage, as there would be a 32GB and 64GB internal storage models, and no 16 gig version. Murtazin, however, does not mention whether the S5 will have a microSD card memory expansion slot.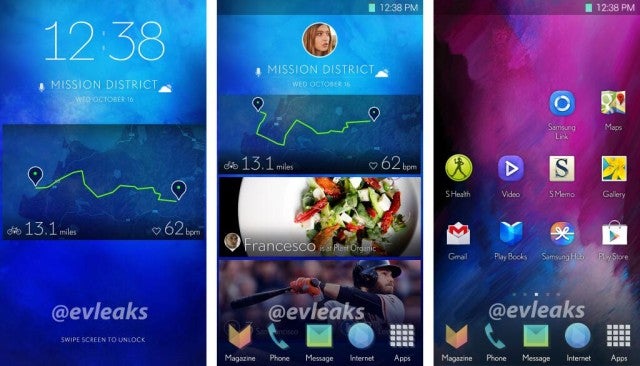 Samsung is preparing a new TouchWiz interface that might debut on the Galaxy S5
Under the hood, the Galaxy S5 is said to be available in two versions - an international one with a Snapdragon system chip, and another one with an Exynos 6 chip. It's not yet clear whether the international S5 would have Snapdragon 805 or Snapdragon 800 (likely the MSM8974ac version) at launch.
The camera is once again said to be a 16-megapixel one on the back, and a 3.2-megapixel up front. This falls in line with earlier rumors about a
16-megapixel ISOCELL camera
in the next Samsung flagship, so we're not all that surprised about this.
Additionally, the Galaxy S5 should launch with a lot of smarthome software and a few new accessories including an S Band bracelet. Interestingly, plans for a thinner Galaxy Gear smartwatch launching alongside the S5 have allegedly been scrapped at this time.
Finally, do keep in mind that all of this - despite coming from an inside source - is still a rumor, so take it with a grain of salt, at least until we see the new Samsung flagship soon.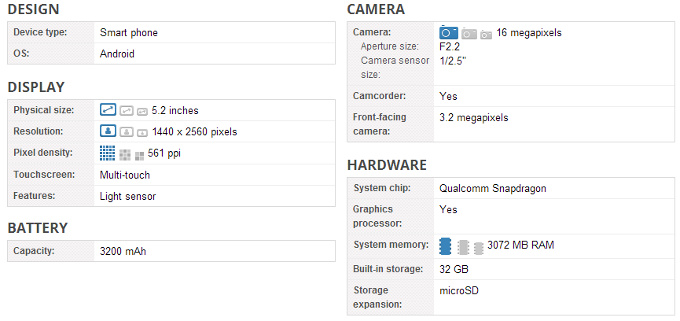 Rumored Samsung Galaxy S5 specs
SGS5 specs. 5.24 inch 2560x1440 560ppi, amoled, 3gb,32/64gb, exynos6 or snapdragon 805, 3.2 front/16mpx main. 3200 mah thats it ;)

— Eldar Murtazin (@eldarmurtazin) February 4, 2014