Samsung Galaxy S5 could be designated as "medical equipment" in Korea
99+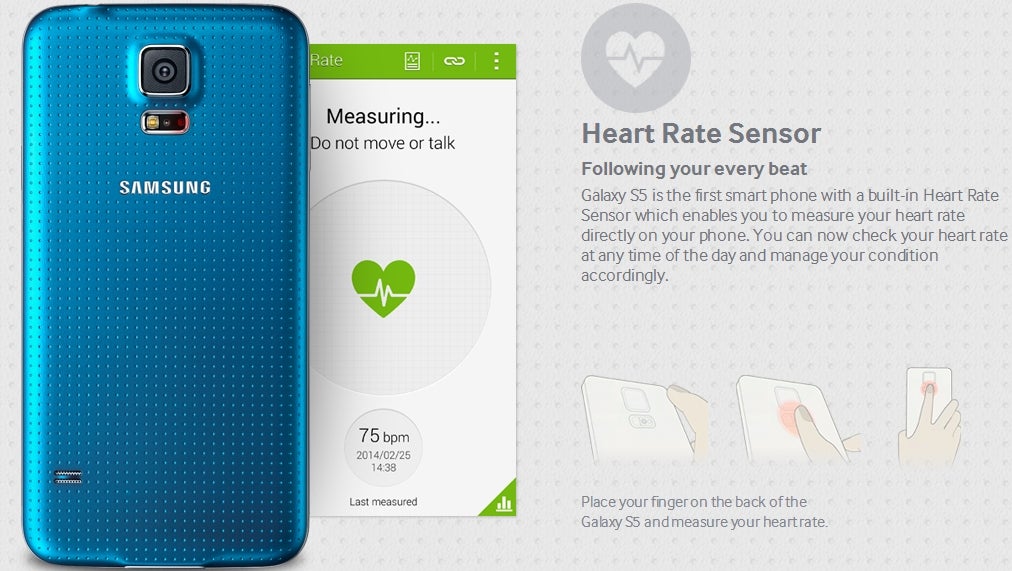 One of the new features introduced with the
Samsung Galaxy S5
is a built-in Heart Rate Sensor. This lets you measure your heart rate just by placing your finger on the back of the handset, next to the camera's LED flash where the sensor is found.
The new feature allegedly determined South Korea's health agency to review the S5 in order to determine if it can be designated as "medical equipment." According to Yonhap News, Samsung will be able to launch the S5 as scheduled regardless of the review's results.
"Even if it is designated as a medical device, the procedure for testing its safety and functions is not complicated," said an official from South Korea's Ministry of Food and Drug Safety.
We're not trying to make fun or anything like that, but, in all seriousness,
that image comparing the gold Galaxy S5 to a band-aid
makes more sense now, knowing that the handset could be recognized as medical equipment (to remind you, the image was retweeted by HTC America's CEO a few days ago).
Announced earlier this week at MWC 2014, the Galaxy S5 is the world's first smartphone to have a built-in heart rate monitor. Want to see how this feature works? Check out
our video here
.
Samsung will start selling the new Galaxy on April 11, and it plans to offer it in 150 countries around the world, including in the US, where all major carriers are going to stock it. Although it's one of the most anticipated smartphones of 2014, it looks like
most of our readers don't really like the Galaxy S5
- probably because we were all expecting it to bring something a bit more exciting (both design-wise, and specs-wise).
source:
Yonhap News