The Galaxy S10 is hugely outperforming the Galaxy S9 in yet another market
1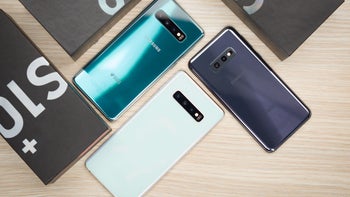 The Galaxy S10 lineup has proven quite successful so far and very few people will deny that. It has broken pre-order records in two key markets and is also helping Samsung slowly regain its market share in China. And now, Samsung has
confirmed
that pre-orders for the lineup are performing extremely well in Brazil.
Samsung Galaxy S10 pre-orders in Brazil are exceeding all expectations

In most countries, Samsung kicked off Galaxy S10 pre-orders in late February before releasing the new devices on March 8. In Brazil, though, the extended three-week long pre-order period didn't start until March 12, but just two weeks in Samsung's new flagship series has already outsold its predecessor by a significant margin.

As revealed by the South Korean giant in a press release, the number of Galaxy S10,

Galaxy S10+

, and

Galaxy S10e

pre-orders within the first 14 days in Brazil is equivalent to more than double the number of Galaxy S9 and Galaxy S9+ pre-orders registered last year.

"This result reinforces the confidence of Brazilian consumers in our brand. Samsung has been in the country for 32 years always offering the best in products and services. Brazilians know they can count on our extensive network of our own stores, partnership with mobile operators, the country's top retailers and pre and post-sale assistance" – Antonio Quintas, Vice President, Mobile Devices Division, Samsung Brasil.




The Galaxy S10 pre-order period runs until April 4 so it'll remain to be seen how Samsung's new lineup performs during its final week. But in the hope of boosting sales, Samsung is gifting a free pair of Galaxy Buds to whoever pre-orders the Galaxy S10 or Galaxy S10e. Similarly, those who pre-order the Galaxy S10+ will receive a free

Galaxy Watch

Active.
The flagship devices are performing well internationally too
Outside of Brazil, the Galaxy S10 series seems to be performing relatively well. In the US and the UK, Samsung's new flagships
set pre-order records
for the company.

In both markets, the Galaxy S10+ proved to be the most popular model prior to release with a total pre-order sales share of 57%, while the remaining 43% was split between the Galaxy S10 and Galaxy S10+. Similarly, in the UK consumers favored the Prism Black color option – it accounted for 47% of all sales – while in the US the Prism White finish was the favorite.
Outside of Europe and North America, the flagships seem to be selling quite well too. In fact, pre-orders in China
massively outpaced
those of the Galaxy S9 series. Moreover, the South Korean brand successfully
tripled its market share
in the country during the Galaxy S10 launch week.
Samsung could ship up to 45 million Galaxy S10 units this year

Rather unsurprisingly, Samsung has so far failed to provide any specific sales numbers for its latest flagship devices. But multiple analysts believe the Galaxy S10 series is on track to outsell the Galaxy S9 and Galaxy S8 lineups by the end of the year.

Although forecasts do vary, most analysts seem to believe that Samsung's Galaxy S10 trio will register shipments of

between 40 and 45 million units

by the end of 2019. Around 20 million of these should by the end of June, with up to 10 million potentially shipping by the

end of this month

alone.




In terms of how these numbers compared to Galaxy S9 shipments, sales of 20 million units by June would represent just a small increase of 0.8 million units. However, if demand maintains steady, by the end of the year Galaxy S10 sales could represent a year-on-year increase of between 30% and 40%.

A separate report

published yesterday

pointed towards shipments of 60 million units by the end of 2019 for Samsung's latest flagships, but this figure seems very unrealistic considering the slowing smartphone market and the fact that Samsung has never achieved such figures. Even the Galaxy S7 and

Galaxy S7 Edge

– Samsung's most popular flagships ever – sold just 48 million units by the end of launch year (2016).