Samsung could ship more than 60 million phones from the Galaxy S10 line this year
27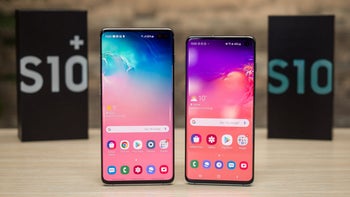 According to a report in Digitimes
, the decision by Samsung to target different market segments with its new Galaxy S10 line, should result in increased shipments of its flagship phones this year. The report says that deliveries of the
Galaxy S10e
,
Galaxy S10
,
Galaxy S10+
and
Galaxy S10 5G
could rise 10% to 15% this year when compared to last year's Galaxy S9 line (which consisted of the
Galaxy S9
and
Galaxy S9+
). Overall, the report says that we could see Samsung ship as many as 60 million units of its Galaxy S10 range this year.
The saying goes, "uneasy is the head that wears the crown," and Samsung remains on top of the smartphone industry with a 20% share. Apple and Huawei each own 14% of the market, and the latter has made it clear that it expects to take over the throne from Samsung as soon as this year. But Sammy is fighting back, first by offering different versions of the Galaxy S10 for different segments of the market, and also by upgrading its mid-range line.
The new
Samsung Galaxy A50
and
Galaxy A30
mid-range phones both feature large, tall and thin 6.4-inch AMOLED displays with large capacity batteries (4000mAh on both) and in the case of the A50, a triple-camera set up on back (25MP primary + 8MP ultra-wide+ 5MP depth sensor). The A50 sports a 25MP selfie snapper in front. Offering mid-range models with mid-to-high-end specs could prove to be a recipe for success.
The report also notes that pricing and limited production of the
Samsung Galaxy Fold
will result in sales of only 1.5 million to 2.5 million units of the foldable phone this year. Still, by becoming the first major manufacturer to release a device in this niche segment of the market, Samsung becomes the de facto leader in this category. The Galaxy Fold will launch on April 26th, months ahead of the summer release of the
Huawei Mate X
. Other manufacturers including Oppo, Xiaomi and TCL are prepping foldable phones, and the biggest challenger to the Galaxy Fold in the U.S. could be the Motorola RAZR (2019). While reportedly not as well spec'd as the Galaxy Fold, the RAZR is rumored to carry a $1,500 price tag compared to $1,980 for Samsung's model. The RAZR couldalso be a choice based on a nostalgia, considering that the original featurephone model sold over 130 million units worldwide. Samsung's main rival, Apple, isn't expected to enter this segment of the smartphone market until late next year at the earliest.
Now is a great time for Samsung to enter the 5G networking equipment business

Samsung is also looking to grab business from the next generation of wireless connectivity. Not only is it selling the Samsung Galaxy S10 5G later this year, by the end of 2019 there will be a 5G version of the Galaxy Fold. It also has 5G infrastructure and networking equipment. This is a great time for Samsung to be entering this line of business, especially since the global leader in networking gear, Huawei, is under attack for allegedly allowing its products to act as a conduit for sending intelligence back to the Chinese government. With the U.S. not allowing carriers to use Huawei gear to build 5G networks, and warning allies of the same, Samsung could step in and take some of that business.

Other competitors in the field include Nokia, Ericsson and ZTE. The latter has the same issues in the states as Huawei has. However, as we pointed out yesterday, Huawei's 4G networking gear is
making it hard for European wireless providers to switch vendors for 5G
. Still, there could be enough business for Samsung, a trusted name in the industry, to have a shot at doing well. So far, Samsung has shipped more than 36,000 5G base stations powered by its own 5G RF chipsets. The company says that these chipsets allow these 5G base stations to be 25% smaller and 25% lighter while consuming 25% less energy.
Samsung does need to turn around some of its businesses. Weak demand for last year's handsets combined with weak sales of iPhones and other smartphone models that it supplies parts for, led it to announce yesterday that the company will report a 54% drop in Q1 operating profits year-over-year. The first quarter figures will be released next week.