Samsung Galaxy S III to officially debut on Verizon July 10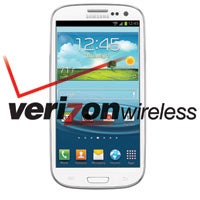 The pre-order ship date for the Samsung Galaxy S III on Verizon Wireless has slide around a few times now. We started at July 9th and then
it was pushed to the 10th
. As recently as last week, we were hearing that
July 12th would be become the big day
. While all this time Verizon continued to stick to its "coming weeks" routine, Big Red has finally announced an official launch date.
July 10, 2012
. Both the 16 GB and 32 GB models, which retail for $199.99 and $249.99 respectively, will be available online on that day, but only the 16 GB model will be in stores. Once again Verizon states that the 32 GB model will be available in retail stores in the "coming weeks."
The
Samsung Galaxy S III on Verizon Wireless
will be available in Marble White or Pebble Blue and feature a 1.5 GHz dual-core processor, 2 GB of RAM, Android 4.0 Ice Cream Sandwich, 8-megapixel rear facing camera, S Beam, and S Voice.
source: Verizon Wireless