Samsung Galaxy S III on pre-order from Expansys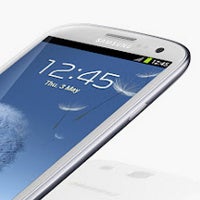 The
Samsung Galaxy S III
is already starting to appear up for pre-order for early buyers, but while on Amazon it costs a hefty $800, the new listing for the Galaxy S III on Expansys USA prices it at the much more affordable $694.99.
The handset sells unlocked and with no carrier ties, so that means you can freely use it anywhere in the world. Also, placing the pre-order now wouldn't charge your credit card and the website will still ask you if you really want to but the phone when it's in stock. All of that comes with no cancellation charges, so for those of you wishing to be among the first to get the SGS III, this seems like a good option.
Of course, you can always wait for the carrier versions of the SGS III. After all, you'd probably still need to sign up a contact to get a relatively good deal on data. The price on contract will be much less, between $200 and $300.
Thanks, Mario!