Samsung Galaxy S II Plus press photos leak out, coming at MWC?
29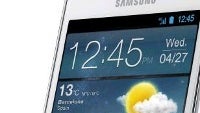 Ladies and gents, from Russia with love, almighty tech blogger Eldar Murtazin brings another scoop and this time it's massive. The press picture of what looks like an upgraded Samsung Galaxy S II (or maybe a brand new S III, but more likely the former) in beautiful white leaked out in a tweet by Murtazin. One possible name for the handset is the
Samsung Galaxy S II Plus
, at least that's what appeared earlier in Android benchmarking app An3DBenchXL.
The handset runs on
Android 4.0
Ice Cream Sandwich and is expected to arrive at MWC. Why so? The press photo below clearly shows the weather forecast for Barcelona and indicates Feb 28th as a possible date for the launch. Interestingly, Feb 28th falls on Tuesday, not on Thursday as indicated in the picture, which is puzzling. (Thanks, clevername!)
The device looks impressively thin, most probably matching or even beating the Galaxy S II. It also has only three navigational buttons, compliant with ICS recommendations. Earlier today, a Galaxy S II Plus appeared on benchmarks with a 1.5GHz dual-core Samsung Exynos processor. That device, though, was listed as running Gingerbread, not ICS as on the picture.
Overall, there seem to be just a bit too many things not matching like the date and the ICS versus Gingerbread, so we'd take this with a huge
grain of salt
.

At the same time, Samsung said its much anticipated Samsung Galaxy S III won't come to MWC, but rather later in H1 2012. Murtazin claims the S III is arriving in April.