Samsung Galaxy Note5 vs Galaxy S6 edge+ vs Apple iPhone 6 Plus: specs comparison
3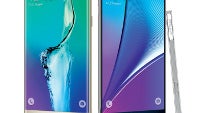 Samsung today introduced its newest hot duo - the Galaxy Note5 and the Galaxy S6 edge+. To say that these handsets look like a pretty sweet package will be an understatement, as they seemingly employ all of the ingredients that made the Galaxy S6 and S6 edge so appealing, and then add some on top.
Indeed, both the S Pen-boasting and the curved screen phones are most probably be all the rage on the Android scene for a certain amount of time, mostly specs-wise.
Now that Apple is also playing in the big boys' league, it is more than natural to compare the new duo with the current crop of Cupertino's largest phone to date, the iPhone 6 Plus. The specs sheets of the trio pretty much speak for themselves and can be compared right below.
Make sure to drop a line in the comments section and share your opinion on this three-sided rivalry.
IPS LCD
Super AMOLED
Super AMOLED
Oleophobic coating, Scratch-resistant glass, Ambient light sensor, Proximity sensor
Scratch-resistant glass, Ambient light sensor, Proximity sensor
Scratch-resistant glass, Ambient light sensor, Proximity sensor
Apple A8
Samsung Exynos 7 Octa 7420 (14 nm)
Samsung Exynos 7 Octa 7420 (14 nm)
Dual-core, 1400 MHz, Cyclone ARMv8-A 2nd gen., 64-bit
Octa-core, 2100 MHz, ARM Cortex-A57 and ARM Cortex-A53, 64-bit
Octa-core, 2100 MHz, ARM Cortex-A57 and ARM Cortex-A53, 64-bit
PowerVR GX6450
Mali-T760 MP8
Mali-T760 MP8
128GB, not expandable
64GB, not expandable
64GB, not expandable
iOS (12.x, 11.x, 10.x, 9.x, 8.x)
Android (7.0 Nougat, 6.0 Marshmallow, 5.1 Lollipop), Samsung TouchWiz UI
Android (7.0 Nougat, 6.0 Marshmallow, 5.1 Lollipop), Samsung TouchWiz UI
Qualcomm Quick Charge 2.0
28.00 hours
the

average

is 11 h (660 min)
16.0 days (384 hours)
the

average

is 29 days (688 h)
14.0 days (336 hours)
the

average

is 29 days (688 h)
24.00 hours
the

average

is 0 h (0 min)
22.00 hours
the

average

is 0 h (0 min)
20.00 hours
the

average

is 0 h (0 min)
3G: 12 hours; LTE: 12 hours; Wi-Fi: 12 hours
3G: 10 hours; LTE: 11 hours; Wi-Fi: 12 hours
80.00 hours
64.00 hours
66.00 hours
14.00 hours
15.00 hours
15.00 hours
Single camera
Single camera
Single camera
8 MP (Sapphire crystal lens cover, OIS, PDAF, BSI sensor)
16 MP (OIS, PDAF, CMOS image sensor, BSI sensor)
16 MP (OIS, PDAF, BSI sensor)
Aperture size: F2.2; Focal length: 29 mm; Sensor size: 1/3"; Pixel size: 1.5 μm
Aperture size: F1.9; Focal length: 28 mm; Sensor size: 1/2.6"; Pixel size: 1.12 μm
Aperture size: F1.9; Focal length: 28 mm; Sensor size: 1/2.6"; Pixel size: 1.12 μm
1920x1080 (Full HD) (60 fps), 1280x720 (HD) (240 fps)
3840x2160 (4K UHD) (30 fps), 2560x1440 (QHD), 1920x1080 (Full HD) (60 fps), 1280x720 (HD), 640x480 (VGA)
3840x2160 (4K UHD) (30 fps), 2560x1440 (QHD), 1920x1080 (Full HD) (60 fps), 1280x720 (HD) (120 fps), 640x480 (VGA)
OIS, Time-lapse video, Continuous autofocus, Picture-taking during video recording, Video calling, Video sharing
OIS, Continuous autofocus, Object tracking, EIS, Video calling
OIS, Time-lapse video, Continuous autofocus, Object tracking, EIS, Video calling
6.22 x 3.06 x 0.28 inches (158.1 x 77.8 x 7.1 mm)
6.03 x 3.00 x 0.30 inches (153.2 x 76.1 x 7.6 mm)
6.08 x 2.98 x 0.27 inches (154.4 x 75.8 x 6.9 mm)
6.07 oz (172.0 g)
the

average

is 6 oz (171 g)
6.03 oz (171.0 g)
the

average

is 6 oz (171 g)
5.40 oz (153.0 g)
the

average

is 6 oz (171 g)
Back: Aluminum
Back: Glass; Frame: Metal
Back: Glass; Frame: Metal
Fingerprint (touch)
Fingerprint (touch)
Fingerprint (touch)
Stylus, Touch sensitive control keys
Touch sensitive control keys