Samsung Galaxy Note 10.1 found to have 2GB of RAM and SMS
31
We all knew the day was coming soon enough that mobile devices would finally bump up the available RAM and head towards the 2GB mark, and it looks like that day is here as a new unboxing of the Samsung Galaxy Note 10.1 is showing that the device has 2GB of RAM and more under the hood. The unboxing comes from Korean website
The Brave Post
.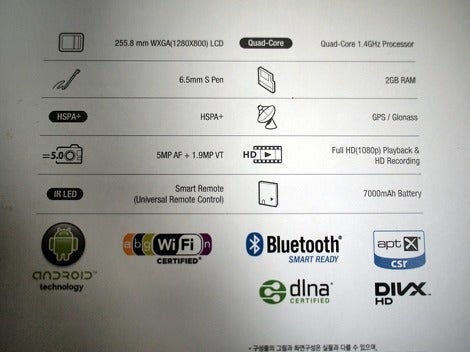 A lot of what is seen in the unboxing is about what we expected from the various leaks and info about the tablet that we've seen before, but it was pretty nice to see the 2GB of RAM listed on the box itself. The question there is whether or not this represents the international version or just a regional version. As we saw with the Samsung Galaxy S III, the
Japanese variant
of the device had 2GB of RAM, but we didn't see that carry over into international models.
Another interesting bit of info is that it looks like the Note 10.1 will have SMS capabilities as well. The idea seems to be that the Note will act in connection with your phone allowing for sending and receiving messages.
Is that going to be enough to sway consumers?