Samsung Galaxy Note 10.1 Review
48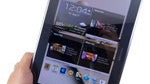 Introduction:
Perfection is something that most manufacturers strive to achieve with their products, and as we all know too well, Samsung isn't a stranger when it comes to delivering the goods. Has it really been 6 months since we first feasted our eyes on the
Samsung Galaxy Note 10.1
back at Mobile World Congress? Yes, and during the time, the note-taking focused tablet has received its redesign to better have it ready to take on the competition head on.
For a second though, it makes anyone wonder why they would even unveil something that wasn't up to the expectations of being a viable competitor. Whatever is the case, the Samsung Galaxy Note 10.1 is here in the flesh – freshly packing some upgraded internals, while presenting itself as the premier paper and pen replacement. Donning a $500 starting price point, it's sure to fit in nicely with the existing crop, but in a world where novel features are perceived to be tertiary things with consumers, it's going to take more for the Galaxy Note 10.1 to establish itself in the same premier class as its rivals.
The package contains:
USB cable
Wall Charger
Start Guide
Health & Safety and Warranty Guide
Design:
You'd think this "high-end" tablet would brandish an equally "high-end" design to reel in prying eyes. Instead, it's more ordinary than anything else, as it sports the all typical Samsung design; it's an all-plastic affair once again. Strangely, there's a great deal of weight (21.16 oz) and size (0.35" thick) attached to the tablet, which makes it rather cumbersome when compared to Samsung's previous efforts with the Galaxy Tab series. When first impressions make a whole lot of difference, the conventional look of this tablet might prove fatal, as consumers might seemingly overlook it in favor of something else more attractive.

Since the Samsung Galaxy Note 10.1 shares many of the design elements of the Galaxy Tab series, it doesn't surprise us that most of its buttons are found towards the
top edge
. Specifically, these include the power button, volume control, microSD slot, 3.5mm headset jack, and IR blaster. With the latter, it's been increasingly commonplace with Samsung's line of tablets of late, which essentially turns it into a universal remote – a great addition to find, of course.
Finally, the
bottom side
of the tablet is home to the microphone and proprietary dock port, which allows for data/charging connectivity. However, you'll need to purchase an optional adapter or dock accessory to gain video-out functionality.
Perched above the display, a
2-megapixel camera
sits ready and waiting to shoot self-portraits and the occasional video chatting session. Along the sides, the tablet's two speakers are directed towards us – allowing for better dispersion of audio.
Flipping it over, the
5-megapixel auto-focus camera
with flash is smacked directly towards the middle top-side of the tablet. When 1080p recording is becoming the standard, some might be flabbergasted to know that this is pacing 720p recording.
Display:
Considering that this tablet targets individuals who are big into photo-editing, it's unfortunate to find its display flaunting WXGA 1280 x 800 resolution – underwhelming to say the least. Nevertheless, it's adequate enough for most case uses, such as being able to distinguish fine details with no problems. Furthermore, the
10.1" Super PLS LCD display
has enough pleasing visuals, such as a high contrast and a natural looking color production, to make it pleasing enough to look at – though, its viewing angles are a bit weak. Essentially, we notice it washing out when tilted, and when you combine that with outdoor viewing with the sun present, it still requires some shielding for proper viewing.
S-Pen:
Just like the
Samsung Galaxy Note
smartphone, the standout feature of the Galaxy Note 10.1 is none other than the included S-Pen. Employing Wacom technology, which enables the tablet to distinguish various degrees of pressure sensitivity, it's undeniably the most precise and accurate thing for touch input. Simply put it, the S-Pen dishes up the most natural process for handwriting and drawing. Depending on how much pressure is applied, you can obtain faint or dark strokes – thus, giving us complete and utter control with our movement.
In its attempt to emulate the pencil and paper experience, the S-Pen is fashioned so that it has the distinct look of an actual pencil. Therefore, our fingers comfortably wrap around the S-Pen with little fatigue or irritation after prolonged usage. With the redesign of the tablet, there's now a slot in the rear to accommodate the S-Pen when it's not in use.
Recommended Stories