The Japanese Samsung Galaxy S III will have 2GB of RAM
63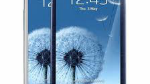 When we first saw the headlines popping up that the Japanese variant of the Samsung Galaxy S III would have 2GB of RAM, we didn't believe it. We scoured the DoCoMo website and looked through all of the documentation, but couldn't find the mention of it anywhere. We were almost ready to call bunk on the rumor until we got to the Samsung Japan website.
It's true. The Japanese variant of the Galaxy S III is going to be packing 2GB of RAM. It has been confirmed by both Samsung and DoCoMo. Unfortunately, as of right now, it looks as though the extra gig of RAM is going to be exclusive to Japan, just like the other Japan standard of the 1seg TV tuner. Other than those two differences though, this is basically the same phone we'll see in the US since it is packing LTE and the Snapdragon S4 CPU.
It's likely that 2GB of RAM is going to be the standard soon enough, but it seems we aren't there just yet. Of course, as nice as it sounds, we don't really know that the extra gig of RAM would provide that much benefit unless you were planning to have every app and game on your phone running at the same time for some odd reason. So, maybe we won't be missing out on much.