Samsung Galaxy Beam, Ace 2 release dates confirmed for this quarter, will feature ST-Ericsson's NovaThor U8500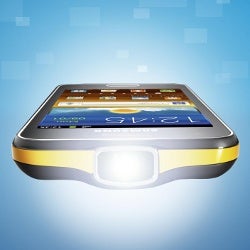 Here are a couple of mid-range smartphones we're genuinely extremely excited about - the Samsung Galaxy Beam and the Samsung Galaxy Ace 2. The
Galaxy Beam and Ace 2 release date
has finally been confirmed for this quarter, and the two handsets will feature the ST-Ericsson NovaThor ModAp U8500 dual-core chip.
"Today we can confirm that two more Samsung GALAXY Android-powered smartphones – the GALAXY Beam and GALAXY Ace 2 – will be powered by NovaThor ModAp platforms,"
said Marc Cetto, senior vice president of smartphone and tablet solutions for ST-Ericsson.
"In February, we announced that the Samsung GALAXY S Advance was the first smartphone by Samsung to leverage the U8500 platform. And thanks to the U8500's versatility and maturity, Samsung was able to bring other devices based on the same platform to market quickly."
Is your head already spinning by that name? It's not the chip, though, that makes these phones so interesting - it's the combination of features and price.
The
Samsung Galaxy Beam
is expected to be the first phone with a built-in pico projector to become massively available. It's actually the successor to the original Galaxy Beam I8520, released two years ago, but that handset arrived in very limited markets, and with Android now more matured as a system, and with much wider reach, the new Galaxy Beam truly stands out among the rest. The pico projector is 15 lumens bright, and the phone is just 0.47 inches (12.5mm) thick.
The
Samsung Galaxy Ace 2
on the other hand is the successor to the very popular Galaxy Ace, and with a larger, 3.8-inch WVGA screen, a dual-core processor and the right price, it has all the possible ingredients of another successful device for Samsung. The handset actually just went on sale today in the UK, so it should arrive to other markets shortly after.
On the hardware side of things, this is definitely good news for struggling ST-Ericsson. The company's NovaThor U8500 chip is used in the Sony Xperia P and U as well. For the technically inclined, the U8500 is a 45nm dual-core chip with two Cortex A9 cores and a Mali-400 MP1 graphical unit.