Samsung Epic 4G will be Sprint's second WiMAX phone with Android
29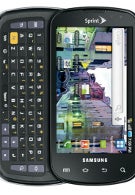 Look at what Samsung and Sprint announced, people – the rumored
Galaxy S Pro for Sprint
! And it will actually be called the Samsung Epic 4G, because it will be the second handset after
the EVO 4G
to utilize Sprint's WiMAX data speeds. Behind this lies what might turn out to be one of the best Android handsets to date, if all sticks together well. Specswise it takes the pretty convincing
Samsung Galaxy S
(4" Super AMOLED screen and 1GHz Hummingbird processor) and adds some more features like a full side-sliding QWERTY keyboard, and camera flash.
The Samsung Epic 4G's capabilities have been further improved with the addition of a 6-axis motion sensor (similar to what the iPhone 4 has, we'd assume), which opens new possibilities for games and applications to take advantage of.

Another addition to the multimedia department will be video and music downloads available to purchase or rent from an upcoming Samsung Media Hub content store, which will be "powered by some of the biggest names in entertainment". Oh, it also promises visual voicemail, e-books by Amazon and B&N, confirmed upgrade to Android 2.2, and mobile hotspot capabilities.
Samsung just upped the ante for Android in the US with another compelling handset on Sprint. It looks like this is all shaping to be a pivotal year in smartphone land, when finally the dream to carry one device that does it all may come to fruition. So many great offerings, so many maxed out credit cards.
Samsung Epic 4G Specifications
HTC EVO 4G Specifications | Review

source:
Samsung USA