Specs for the Samsung Galaxy S Pro are out of this world
This article contains unofficial information.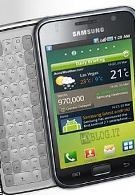 The Samsung Galaxy S Pro appears ready to join other models like the Motorola DROID X, the myTouch 3G Slide and the HTC EVO 4G as the top Android phones to be offered by U.S. carriers this summer. The last two devices have already been released, and the DROID X has been the worst kept secret in the industry. That leaves the specs of the Galaxy S Pro unknown at this time-until now. A tipster was able to reveal info on the device to Android Central and divulged the following about a prototype unit. The specific model ran Android
2.1
, although Froyo could be installed by launch. Also, users can customize their phone using Touch Wiz 3.0. As we
reported
, a leaked shot of the phone revealed that Sprint seemingly plans on offering the device as its second 4G enabled handset. Sprint software was running the prototype and while Sprint TV works on the EVO 4G on 4G and 3G, on the Galaxy S Pro, it works on 4G, 3G and Wi-Fi. Video playback can be achieved over H.264 and DivX. The Samsung Galaxy S Pro has 512MB of RAM and would appear to use the same 4 inch Super AMOLED screen that is on the Galaxy S. For those unaware, one difference between the latter model and the Galaxy S Pro is the landscape sliding, physical QWERTY keyboard on the Pro. Size does matter when it comes to picking a smartphone and this Samsung device is about a half-inch shorter and three-eighths of an inch narrower than the EVO 4G. It is thicker than the HTC model because of the QWERTY. Like the Galaxy S, the Pro has some power under the hood in the form of the 1GHz Hummingbird processor. Also under the hood are radios with support for 3G connectivity through Sprint's Ev-Do Rev. A and 4G through WiMax. The camera is a 5MP model with 1X optical (as opposed to digital) zoom and features 720p recording of video. There is a VGA front facing camera for video conferencing. The phone's body was apparently made of plastic, although that could be due to the unit being a prototype. Overall, it sounds like the Samsung Galaxy S Pro has the goods to hang around with the other super spec'd Android phones and not have an inferiority complex.
Samsung Galaxy S Pro Preliminary Specifications
Samsung Galax
y S Specifications
|
Hands-on
HTC EVO 4G Specifications
|
Review
T-Mobile myTouch 3G Slide Specifications
Motorola DROID X Preliminary Specifications
source:
AndroidCentral