Samsung ATIV S pops up at long last, free with contract at T-Mobile Austria
2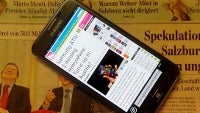 The elusive
Samsung ATIV S
windows Phone 8 flagship has been quietly launched, it seems. Unfortunately the handset only made a cameo at T-Mobile Austria, but it's a start, and an indication that it won't be long before Samsung's WP8 contestant turns up at other places.
The ATIV S will be free with contract there, and that's the deal for the 16 GB version. Just a reminder, the phone carries the same 4.8" Super AMOLED HD display and 8 MP camera that you can find in the Galaxy S III, and is as thin and light as its Android counterpart.
The battery, however, is beefed up to 2,300 mAh, and the chip is that WP8 stalwart, Qualcomm's Snapdragon S4, clocked at 1.5 GHz. T-Mobile Austria confirmed they have the phone in stock, and even sent out a picture with it lying on yesterday's paper as a proof. Funny.