Rumor: Alcatel to introduce 5 new smartphones with a modular one at MWC 2017
7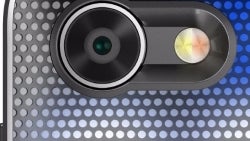 Alcatel has big plans for this year's MWC conference, it seems. According to intel shared by Hungaria's Tech2.hu, the Chinese-owned company plans to introduce no less than five new handsets come the end of February in Barcelona. While the products haven't been detailed as of now, sources say one of the phones will be modular, which sounds interesting. So far, the modular concept hasn't jibed very well with consumers who, evidently, prefer a singular, all-in-one experience.
But if Alcatel wants to introduce its own take on what's an innovative technological concept, it should definitely do so. One of the modules – a removable cover – allegedly has colorful LEDs that glow in time with the music. Other preliminary details about the modular smartphone include a MediaTek chipset with octa-core CPU, a 13MP rear camera, and a price of around 320 euros in Europe. The phone may or may not turn out to be Alcatel's next flagship mobile product, the Idol 5.
We'll learn more about that and the other products at Alcatel's February 26 MWC keynote. The images below were shared by the Hungarian source and give a small glimpse at things to (potentially) come.