Role models: the world's thinnest tablets
4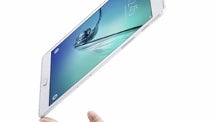 Samsung just outed
the world's thinnest tablets
, the
Galaxy Tab S2 8.0
and
Samsung Galaxy Tab S2 9.7
, each measuring the incredible 5.6mm thin, and weighing just 265g and 389g, respectively. Even more impressive is the fact that all that slender waistline is stuffed in a premium metal chassis, and the slates carry high-res 2K displays.
Those two will be competing with some formidable opponents in the thinnest tablets lineup, like Apple's
iPad Air 2
, Dell's
Venue 8
, and Sony's
Xperia Z4 Tablet
, as all as its first small slate, the
Z3 Tablet Compact
. Thus, our ranking of the world's thinnest tablets has now changed significantly, as the new slates clock in at just about quarter of an inch girth.
A slender tablet is certainly better than a thick one, said Captain Obvious, for looks and ergonomics sake alone, that's why we are rounding up the most anorexic slates out there, with the cutoff now being held at 0.26" (6.5mm), instead of the 0.31" (8mm) mark we had before.
Both clocking in at the same 5.6 mm thickness, Samsung's Galaxy Tab S2 8.0 and Tab S2 9.7 are incredible pieces of craftsmanship with their metallic chassis. The Tab S2 8.0 features an 8-inch Super AMOLED screen with a 1536 x 2048 pixels, while the Tab S2 9.7 is equipped with a 9.7-inch screen with the same resolution. Both models are powered by an octa-core CPU with four cores running at 1.9GHz, and four cores running at 1.3GHz. The tablets have 3GB of RAM inside, along with 32GB/64GB of internal storage. Those requiring more memory can access the 128 GB capacity microSD slot.
Dell's Venue 8 used to be touted as the world's thinnest tablet, and at just 6mm (under a quarter-inch) thick, there was no argument against that claim. Moreover, all that jazz is built on a metal chassis, lending a modern, industrial look which will fit any décor in the office, living room, purse, or briefcase. The new tablet also packs a 2K resolution 8.4" OLED display, a Moorfield series quad-core Atom CPU, and intriguing tri-camera setup on the back that leverage Intel's new RealSense Snapshot Depth Camera. The main camera is an 8-megapixel unit, augmented by two auxiliary cameras that gather depth and dimensional data, much like the duo-camera set up on the M8, but also allow measurement calculations and less warped looking 3D effects.
Apple surely outdoes itself when we look at the design of the iPad Air 2, which snags the honor of being the world's second thinnest tablet announced. Well, it's 18% thinner than the last year's iPad Air. Unless you have its predecessor side-by-side to compare, it's rather tough to admire the design improvements Apple has achieved, but, seriously, it's skinny (6.1mm) and lightweight (444 gr), easily eclipsing most other 10-inchers in the process. That combination alone makes it considerably easier for travel than most laptops, since it's something that occupies minimal space in a backpack or bag.
Oh, Sony, how do you do it? The fresh Sony Xperia Z4 tablet might not have the metallic body of the three stooges before, but it achieves the amazing 6.1mm thickness having something arguably much more useful - IP68 certified chassis, making it good for binge-watching sessions in the bathtub. That's not all, though, as the tablet has a 10.1-inch QHD display, a 64-bit octa-core processor, 32GB of internal storage, 8 megapixels main camera, 5 megapixels front shooter, and supports LTE connectivity. The Android tablet is powered by a 6000mah battery that Sony claims is good for 17 uninterrupted hours of movie-watching. Knowing Sony's power-sipping displays, we are inclined to believe the claim.
What, Sony again? Yes, dear, Sony's 6.1mm-thin Xperia Z4 Tablet was the second slimmest at launch, before it got relegated to third place with the two Tab S2 launches from Samsung. Sony's craftsmanship is nothing to sniff at, though, so the next in our line is again a Sony - the 6.4mm Xperia Z3 Tablet Compact - which is among the most slender and compact 8-inch slates in the wild. It also tips the scales at merely 9.52 oz (270 g), which makes it as light as a feather. The slate is slightly tall, though, at 8.40" (213.4 mm), yet rather narrow at 4.87" (123.6mm). This makes it an exquisite catwalk star that is not afraid of the water, too, as it is IP65/68-certified, which is one of the highest ingress protection levels. This means that it will survive a water dip for up to 30 minutes in depths of no more than 1.5 meters.