Here is an up close look at some of the neat features of Intel's RealSense on the Dell Venue 8 7000 Series
7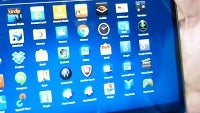 One of the cool features that was pointed out during the Keynote at the Intel Developer Forum was Intel RealSense Snapshot which takes image manipulation to a new level.
RealSense does not rely on video tracking or multiple pictures to develop the stack of data which allows the user to select filter application or re-focus the image. Intel's nifty new feature brings more than that to the table though.
By capturing depth information, usable for objects photographed from up to 30 feet away, you can select a point in the picture, then pointing to another and seeing a linear distance calculated, eliminating the need for a reference point for scale and distance.
The multiple camera set-up on the back of the Dell Venue 8 7000 Series also provides greater depth of 3D image perception, beyond that what we have seen on the likes of the
HTC One (M8)
. Plus, the target of the picture can be manipulated in the 3D environment by drawing a pattern on the screen and then it will follow the pattern subtly.
Refocus and selective filter benefits by the multiple camera set-up too. Since only one picture needs to be taken, the refocus is not a calculation from multiple images used in the processing, rather, it is all the same file and RealSense maintains all the relevant focus points. The same principle applies to selecting filters, by simply gliding your finger along a slider and you can see color or other types of filters apply across the landscape and depth of the photo.
Indeed, RealSense is neat enough that we are perfectly fine with saying that we look forward to the prospect of seeing this technology find its way to smartphones. That said, the Dell Venue 8 7000 Series tablet is quite the nice form factor to put RealSense to use.