Republic Wireless now allows subscribers to bring their own phone to the network
3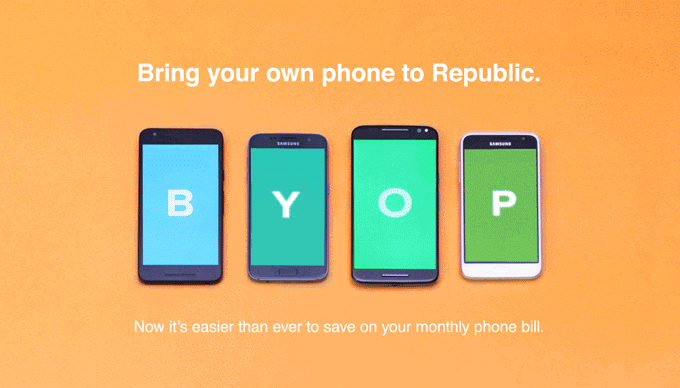 Republic Wireless is currently undergoing a transition from a Wi-Fi based service to a more traditional mobile virtual network operator (MVNO) based on the GSM technology. A few months ago, the company started offering a much
wider range of phones to be used by its customers
, and now Republic Wireless has recently announced that subscribers are be able to bring their own phones to the network.
Although Republic Wireless now allows customers to bring their own phones, subscribers still need to be rocking one of the devices that the carrier officially supports. Here's a list of the phones that the MVNO officially supports at the moment:
Moto G4
Moto G4 Plus
Moto X Pure Edition
Nexus 5X by LG
Nexus 6P by Huawei
Samsung Galaxy J3
Samsung Galaxy S6
Samsung Galaxy S7
Samsung Galaxy S7 Edge
Get any phone mentioned in the list above (unlocked only, of course), go to the Google Play store and install the Republic app, and you'll be able to order a SIM card from there. The same app is being used to verify that you're rocking one of the supported devices as well as for activating the SIM once it is delivered.
In the past, phones needed some deep tinkering at the firmware level before they could be used on Republic Wireless. With the recent transition to a more traditional MVNO system, it looks like the required software can be installed much like an app would.
If you hurry, you'll be able to order a Republic Wireless SIM card for free (down from the usual price of $5), although customers still need to pay for shipping and tax. The deal only lasts until today at 9AM EST.
What do you guys think? Will you be considering a switch to Republic Wireless now that you can bring your own device to the network?