Republic Wireless' Motorola DEFY XT getting update
1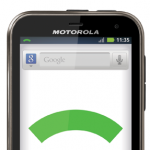 Republic Wireless is the carrier that offers unlimited talk, text and web for
$19 a month
. The secret is the use of Wi-Fi whenever available, and when it's not the carrier uses 3G service from Sprint. The
modified Motorola DEFY XT has proprietary software loaded
on the phone which allows the device to switch back and forth from Wi-Fi connectivity to Sprint's pipeline. On Monday an OTA update started rolling out for the handset that gets rid of some of the bugs. Hopefully, it will exterminate the one that prevents texts from being sent while on Wi-Fi.
removing echos
and improving the post-dial delay that users are experiencing. Calls can now be made and received from U.S. numbers while using Wi-Fi overseas, and an indicator on the phone will tell you when the Wi-Fi signal is strong enough for you to make a phone call.
The update started getting pushed out at 6PM and you need to be on Wi-Fi with
at least 50% battery life
to get it. Republic Wireless sells the phone for $259 and you need to have the phone in order to use the service. The carrier will be launching its first Google Play app on Tuesday called Wi-Fi+ which will contain widgets so that Republic Wireless customers can understand their Wi-Fi connection better and also see usage numbers.
If you are a Republic Wireless customer, let us know how the service is working for you. Just drop us your comments in the box below.
source:
RepublicWireless
via
AndroidCentral