Report: MediaTek to report lower Q1 shipments of integrated circuits for handsets
2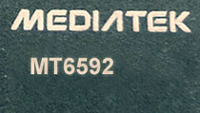 With most of its customers already loaded up on integrated circuits earmarked for handsets, MediaTek will probably report a 15 to 20% drop in shipments sequentially for the first quarter of 2014. This is the word from "industry sources" who say that the silicon slinger is making comparisons tough because of a strong fourth quarter of 2013. Customers in China have already started ordering enough inventory to cover the first quarter, which incudes the Lunar New Year holiday in the country.
Thanks to its rising share of the 3G market, and the delivery of its new 4G enabled chips, MediaTek is expected to have a good year in 2014. Samples of its 4G chips have been sent off to customers, and shipments of the chips should start in earnest shortly after the end of the second quarter.
After reporting a company record of $39.01 billion NT ($1.33 billion USD) in third quarter revenues, MediaTek previously said it expected Q4's top-line to be flat or off 5% when compared to the previous quarter. Regardless, it has been a great year for the company, as sales are up 34.1% over last year as of November at $122.97 billion NT ($4.1 billion USD).
In addition to the numbers, MediaTek has become to "go-to" guys for those OEMs producing low-cost and entry-level phones. In addition, the company
introduced the world's first true octa-core CPU
earlier this year. For the first time, a processor has the ability to have all eight cores active at one time.
source:
DigiTimes