Report: App Store to top iTunes in revenue by Q4
2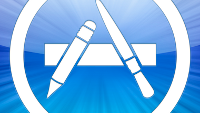 This year could be a milestone one for the Apple App Store. Based on projections from securities house Morgan Stanley, 43% of Apple's online service revenue last quarter was attributed to the App Store, while 57% came from iTunes. But Morgan Stanley's analysts pulled out their trusty abacus. The calculations they made show that by the fourth quarter of this year, iTunes will be in the minority, accounting for 47% of online service revenue.
Apple's iTunes is suffering from a decline in music downloads, and Morgan Stanley analyst Katy Huberty believes that money that had been historically spent on iTunes, is now lining the pockets of Spotify, Pandora and Netflix. One reason for the change is that customers now would rather make monthly payments for content, instead of paying for individual tunes.
Morgan Stanley's data also indicates that since late 2012, the App Store has had more average billings per user than iTunes. Currently, the gap is fairly wide with the average App Store user getting billed 4.7 times per month, compared to 1.9 billings per month for the average iTunes user. The online services are important for Apple because of their high margins. The App Store generates operating margins of 46%, while iTunes operating margin is 15%. Huberty says that the App Store's high margins could raise the company-wide operating margin for Apple by 10 percentage points alone.
The analyst also sees some things taking place that will add to Apple's online services.
Apple could start up a mobile payments service
for its 800 million active iTunes members. An
Apple iWatch could have its own App Store
, leaving Apple a portion of revenue. And
a possible acquisition of Beats Audio
could bring in revenue from the purchase of monthly access to the music streamer's content.
source:
AppleInsider