Apple to announce Beats deal this week at a lower price
33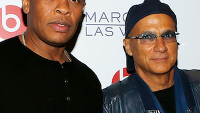 According to those familiar with Apple's plans, the company is going to finally announce the purchase of Beats Audio this week. However, the price has been knocked down to $3 billion from
the original $3.2 billion that Apple was expected to pay, when the rumor first broke
earlier this month. It would still be the largest transaction in Apple's history.
According to a report published on Tuesday, Apple wanted to cut the price of the deal once it learned that Beats Music, the streaming music site coveted by Apple,
had only 111,000 paid subscribers in March
.
Apple wants to use Beats Music
to improve the reception that iTunes Radio has received. In comparison to the tepid roll call that Beats Music has, rival Spotify has 10 million paying subscribers, and 30 million who listen for free.
While Beats Music wouldn't seem to carry such a high valuation, Apple does believe that the Beats Audio headphones division is worth a King's ransom. This is the part of the company that produces and sells high end headphones, priced as high as $450. That division brought in revenue of $1.3 billion last year.
One person close to the talks said that Apple had not even conducted its due-diligence when the initial rumor broke. A report last week from music publication Billboard stated that
Apple was miffed at Beats co-founder Dr. Dre
, who recorded a video selfie when the deal was first rumored nearly three weeks ago. Allegedly drunk, Dr. Dre bragged in the video that he was now the first hip-hop billionaire. According to figures from Forbes, Dre stood to make $800 million from a sale of Beats Audio at $3.2 billion. At $3 billion, he might have to recant his statement. At the latter price, Dr. Dre would gross about $750 million from the sale. After paying Uncle Sam, the good Doctor would probably fall short of his $1 billion goal.
source:
NYPost
via
AppleInsider