Reminder: We'll be covering the HTC event tomorrow starting at 3:00 PM EST
19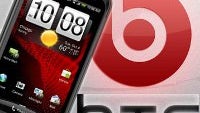 Considering that we're getting closer to the nitty gritty portion of the year when handset sales are expected to rise dramatically, mainly due to the always-busy holiday season, we're at that point when companies normally announce their new devices in time for the festivities. Last week alone, we managed to get wind
about HTC's planned press event in New York City
tomorrow,
November 3rd
.
From the sound of it all, the
rumors
and
recent information
of late point to the realization that we'll more than likely see the
HTC Rezound
being officially announced. Slated for Verizon Wireless, this anticipated
Android powered smartphone
was commonly referred to as the
HTC Vigor and Incredible HD
. Needless to say, this one should prove to be a charmer taking into account that it's believed to feature a
4.3" 720p display
, 1.5GHz dual-core processor, 8-megapixel rear snapper, 2-megapixel front facing camera, Sense 3.5, Android 2.3.4 Gingerbread, and
4G LTE connectivity
.
Naturally, we'll be covering the event live starting at
3:00 PM EST
tomorrow – so don't forget to check back here for the latest and most up-to-date news surrounding it. Still, it's possible we may see something else besides the HTC Rezound, but in any case, we'll make sure to give you all the latest things about the event.
And if you happen to be a Verizon customer, there are obviously plenty of variety headed your way in terms of high-end next-generation Android smartphones. Between the
Samsung Galaxy Nexus
and the
Motorola DROID RAZR
, the addition of the HTC Rezound should really balance things out between the manufacturers.
So mark it down now people, since there should be plenty of great things to come out of it!