Real clear iPhone 6s box appears, puts the new fish wallpaper front and center
36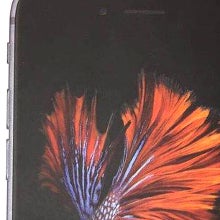 We've seen
a few shots of the iPhone 6s box before
, confirming the name and a 16 GB base model again. Another thing we saw on the leaked box parts and cutouts was a recurrent wallpaper theme on all of the phones' displays, which is said to be of a
goldfish
betta, aka Siamese fighting fish.
The new colorful wall is allegedly part of a set of
fresh animated wallpapers
that Apple will introduce with the upcoming iPhones, and will eventually change color depending on what chassis hue you've chosen. Well, on the leaked pics below you can see what colors will this fish acquire with the gray version of the
iPhone 6s
.
Yesterday's box leak
showed us the rumored rose gold version
, implying that the front of the phone would be white, while the rear will be in rose/copper gold hue, so we are wondering what will Apple's eventual new wallpaper look like with the betta fish in a rose gold reincarnation. We will know soon enough, as the event is scheduled for later this morning, and will be relaying all of the festivities as they happen.