RIM's co-executives cut their annual salaries to $1
13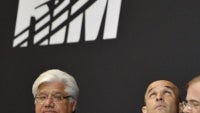 RIM has made some huge announcements - the
first BlackBerry 10 devices
are only expected to arrive in late 2012 because RIM wants to stuff them with LTE-equipped dual-core chips, and investors have quickly reacted to the news and shares of the Canadian company tumbled. There were plenty of interesting things the two co-executives said about the future of the company, but the first thing they did to try and soothe the reaction was cut their own salaries to a mere $1 a year.
"To demonstrate our passion, alignment and commitment to RIM's long-term success, both Mike and I have asked the compensation committee to make a change to our cash compensation such that our salaries will be reduced to $1 a year, effective immediately,"
Balsillie said.
Recently, investors have started mentioning that co-CEOs Mike Lazaridis and Jim Balsillie have to go, but after the earnings call it's becoming obvious that the couple doesn't plan on quitting.
Here are the rest of the earnings call highlights:
BlackBerry 10 Devices to arrive mid-late 2012 because of lack of integrated LTE/dual-core chipsets.
From the beginning of 2012, RIM will be losing an estimated $100 million a quarter to aggressive advertising (mostly in the US), promotions to decrease costs of phones, discounted apps - a heavy push on marketing when products become less competitive.
Mike and Jim are committed to the PlayBook, say its impossible to be making smartphones and NOT making tablets.
Is the symbolical cut any indication of the company's commitment or is it rather a pathetic excuse for not delivering in times when the smartphone market is moving to maturity? Drop us your two cents below.