RIM unveils BlackBerry 7 OS: new browser, BlackBerry Balance, no legacy support
14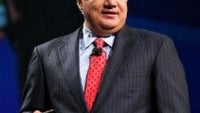 BlackBerry World has kicked off in fullsteam and just days after RIM's co-CEO promised "awhole next generation" of 'Berries, the BlackBerry OS 7 wasunveiled. An update to the BlackBerry OS 6.1, the BlackBerry OS 7 isheralded by an all-new BlackBerry Bold Touch, expected to hit shelvesas soon as "this summer."
It's still too early to judge whetherit will push RIM's "aging products" (as per RIM's co-CEOBalsillie words) to the next generation, but it brings a handful ofnew features:
- BlackBerry Balance allowingfast switching between the business and personal side of yourBlackBerry. That should translate into both corporate and personalinformation being perfectly secure.
- optimized user experience: tobe faster and more intuitive
- voice searches coming for thephone and the web
- noticeably improved browserwith JIT JavaScript compiler and support for HTML5 Video
RIM has also confirmed that the new BlackBerry 7 OS will have "no legacy support," meaning that your "aged" 'Berry would feel even older when those
new BlackBerry Bolds come out
. The main reason behind such unfortunate decision is the fact that previous handsets won't have the graphical power to handle the new version of BlackBerry OS.
source: RIM