RIM ships record 14.2 million BlackBerry units in Q3, up 40% over last year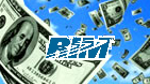 BlackBerry manufacturer Research In Motion reported better than expected Q3 profits and also gave out a fourth quarter estimate that beat out analyst's predictions. For the third quarter, RIM had profits of $911.1 million USD or $1.74 per share. That is up from last year's $628.4 million USD profit, or $1.10 per share. For the second quarter of this year, RIM earned $1.46 a share or $796.7 million USD.
Revenue amounted to $5.49 billion USD in the just completed period, up from last year's $3.92 billion USD and this year's Q2 revenue of $4.62 billion USD. The company shipped 14.2 BlackBerry units in the third quarter, up 40% from the prior year, and added 5.1 BlackBerry subscribers to bring the total to 55 million. Co-CEO Jim Balsillie said, "We are pleased to report another record quarter with strong growth in shipments of BlackBerry smartphones leading to record revenue, subscriber additions and earnings. RIM's business continues to grow and diversify as BlackBerry adoption accelerates in markets around the world. With strong results and momentum from our recent product introductions, as well as growing excitement from our partners and customers around upcoming smartphone, tablet, software and service offerings, we are setting the stage for continuing success."
For the current fourth quarter, RIM expects revenue to rise to $5.5-$5.7 billion USD with profit margins equal to what the company achieved in the third quarter. That would amount to per share earnings of $1.74-$1.80. After hours, RIM's stock (NASDAQ ticker symbol RIMM) was ahead a little more than 2%.
source:
Marketwire