RIM 's free premium app giveaway for BlackBerry 7 OS users expires at the end of this month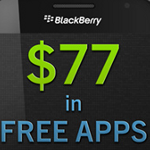 Back in March, RIM announced that it was
offering to BlackBerry 7 OS users at no charge, 17 apps that normally cost $77
. The Canadian carrier on Wednesday put up some reminders on its social networking sites that the promotion, and thus the free apps,
expires on May 31st
. The promotion is available to both U.S. and Canadian BlackBerry 7 OS users.
some of the top sellers in BlackBerry App World
that show off features of the current BlackBerry OS. And even if you don't need all 17 of them now, if there is a chance that you are going to need one of them later, you might as well take advantage of RIM's generosity now. The 17 free apps include BeWeather, Endomondo Sports Tracker PRO, Pinball Deluxe, Rubik's Cube, Mahjong Solitaire, Cribbage, Color ID, Screen Muncher, iSpeech Dictation Pro, iSpeech Color ID Reader Pro, iSpeech FB Chat Pro, Aces 3D pool, Aces Traffic Pack, PBA Bowling 2, Fixmo Tools, Next Dual Pack and Popup.
If you are a BlackBerry 7 OS user, which of these apps are a "must have" at the low, low price of zero?
source:
Crackberry