Qualcomm shows us a mysterious Snapdragon 800 smartphone that will be announced at CES 2015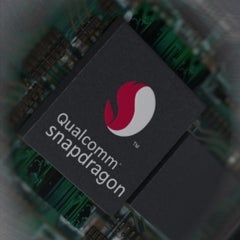 With
CES 2015
kicking off next week, manufacturers are probably more than ready to show us their latest devices. And it's not just smartphone makers who are eager to announce new products. Chipmaker Qualcomm is equally excited about CES 2015, and today provided the first look at a Snapdragon 800-powered handset that's going to be unveiled at the show.
To be honest, we were expecting Qualcomm to tease a Snapdragon 810 handset. With a Snapdragon 800 processor inside, the handset that Qualcomm is partially showing can't be a flagship - so its highlights will most likely not include the latest high-end specs. From the looks of it, the smartphone could be made by LG - since it features buttons on the rear shell.
One of the handsets that LG is expected to announce at CES 2015 is the
G Flex 2
, but it remains to be seen if this is it. It's said that the G Flex 2 will be smaller than
the original model
, which sports a 6-inch display, though it should still have a curvy design, flexible display, and a self-healing back cover.
What do you think, is this a new LG smartphone that Qualcomm is teasing, or something else?
source:
Qualcomm
(Twitter)