Qnovo develops battery tech that charges your phone significally faster. Already pitching it to manufacturers
14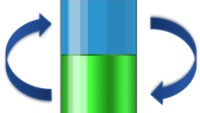 While other companies look to better the battery tech via extended capacities, new materials, and different constructions, startup Qnovo has decided to look in another direction. The company has developed a piece of software (called QNS) and a chip (QN200) that measure a battery's charge level, temperature, recharge history, and cell status, and then determine the optimal amount of power to allow to come in from the plugged-in wall charger.
The tech charges your phone in a series of charge "packets", rather than just letting power flow in the battery at a constant current. The battery's status is checked between each packet, optimizing the next one and so on. This, Qnovo says, reduces battery charge time by 50%. Furthermore, it prolongs the battery's lifetime, as the cells no longer get stressed with higher amounts of power than needed.
What's really interesting about Qnovo's tech is that the software can work independently on a phone that doesn't have the developer's QN200 chip on board. If this is the case, the charging speed will not be as impressive, though it would still be faster than usual, and the battery's life will still get the full optimization.
It is reported that Qnovo is currently in talks with several phone manufacturers – some wishing to implement the QNS and QN200 combo, others – looking to get just the software on their phones. So, it seems a bright future of less wall-hugging is not that far off.
source:
Qnovo
via
MIT Technology Review