Purported Meizu Pro 7 live images show secondary color screen
10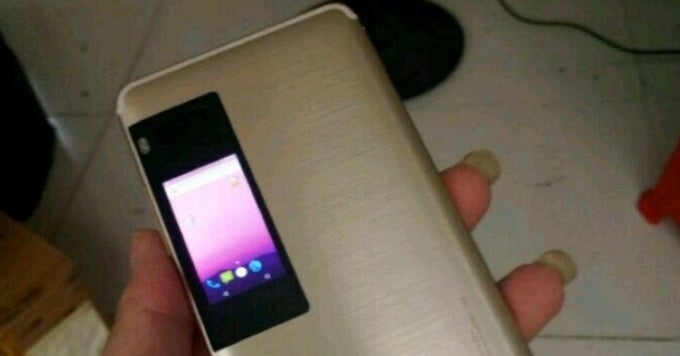 The
Meizu Pro 7
is an upcoming premium model by a popular Chinese smartphone maker. It's shaping up as its most experimental device to date, with the presence of a second display on the back panel – still a rare sight since the
YotaPhone
pioneered the concept in 2013. Speculation ran that the screen in question uses e-ink technology, presumably to save battery power. We also hadn't seen photos of said display powered up yet.
We now have purported live images of a prototype (presumably) Meizu Pro 7 running a bare AOSP build of Android without any customization on top. The secondary screen is shown to be full-color and mirroring the primary display's content. It's a surprising sight, to say the least. Of course, Meizu will most likely come up with dedicated functionality for the secondary color display, as simply mirroring what's going on in the front would hardly make sense.
As seen in other prototypes, the secondary screen is positioned below a dual camera setup with a dual LED flash. The handset itself has a metal body with prominent antenna lines, and shows very thin side bezels on the front. The Pro 7 appears to be a tall smartphone, due to the large top and bottom frames. Meizu could have done more to slim them down and make the design contemporary. Instead, the company has focused on radical differentiation with the second screen.
It will be interesting to see the smartphone that ultimately comes out of Meizu's R&D labs. With news of LG
abandoning
the upcoming V30's secondary display, at least in terms of running two separate displays on a single device, the Pro 7 will be in a fairly unique position on the worldwide market. Sadly, Meizu doesn't sell its smartphones in America, though the brand has decent presence in Asia and some of Europe.
The Pro 7 should be announced between July and August. Hardware-wise, a high-end MediaTek chipset is expected to power the smartphone, alongside 4GB of RAM. What do you think of Meizu's second screen idea?
ALSO READ