Purple Xperia Z3 appears in leaked photos, being primed for Valentine's day launch
20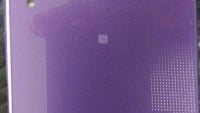 If the ever-persistent question of what's going on with the Sony Xperia Z3's purple-colored version still lingers in your mind and prevents you from sleeping at night, you might find solace in the two leaked photos below. They show nothing but the real purple Xperia Z3, looking absolutely sublime and ready to hit the market.
This should happen in mid-February, right in time for St. Valentine's and just weeks before the Xperia Z4 will be introduced - but hey, some folks out there will still be on the lookout for the Xperia Z3, so everything is fine. Not to mention unquestionably violet!
The salient shade of purple aside, there's nothing odd or special in comparison with the regular Xperia Z3, which is available in black, white, green, and brown gold. Which one's your favorite?