ProScope Micro Mobile is an 80X microscope attachment for the iPhone
4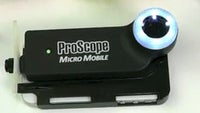 You can now add a microscope to the list of things that the iPhone is capable of replacing, given the right accessory. This gizmo is called the ProScope Micro Mobile and it's a "professional level microscope" suitable for use in science education, law enforcement, medical or manufacturing quality control, or for simpler things like looking at the miniature crawlies living in your carpet.
The ProScope Micro mobile adds 20x to 80x magnification thanks to its Edmund pro level glass optics, which are coated for better image quality and color reproduction. There's an array of LEDs providing illumination and a Lithium Ion battery is powering them for up to 5 hours on a single charge.
In case you don't have the iPhone 5, but still want to get one of these, then don't worry. The ProScope Micro mobile is available for the iPhone 4/4S as well. In addition, there are models compatible with iPad and iPad mini carrying the same price tag. Speaking of pricing, the accessory costs $150 regardless of the model you pick. More info is available at the source link below!