Pre launch countdown continues, no vacations allowed in May for retail employees says Sprint?
This article contains unofficial information.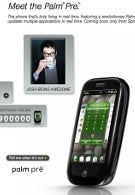 Yesterday we
told you
that Sprint employees are scheduled to begin training on the Palm Pre, the device that has created more buzz than a bee hive full of the stinging insects. In another sign that gives us better visibility on when the Pre might be released, Sprint has put an embargo on vacations during May for retail employees. Ma Bell did the same thing to her retail people before each iPhone launch, so obviously this is a rather important clue. In the past two weeks, we have heard a range of guesses, many of which have already come and gone with the device nowhere to be seen besides in the hands of Palm executives at trade shows. Now we have the 1-2 punch of Sprint training reps on the device and the vacation embargo for May. We also have started to see the Pre show up in some Sprint television and print ads. You don't have to be Dick Tracy to see that the most anticipated launch of the year is coming soon.
Palm Pre Preliminary Specifications
|
Hands-on
source:
EngadgetMobile