PowerSkin iPhone 5 Battery Case hands-on
6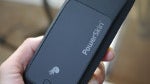 Being a familiar name to us by now, we've gotten acquainted with many of
PowerSkin's various mobile accessories
, which primarily consist of battery packs and cases. Most recently, we checked out the very interesting suction attachment in the
PowerSkin PoP'n Hybrid Charger
for the iPhone 5. However, if you simply prefer something more traditional and snug, the
PowerSkin iPhone 5 Battery Case
might suit you instead.
So what's to say about this one? Well, for starters, it's nice to see that this is a single unit that houses everything together – unlike the removable appendages of the
iKit NuCharge case
. Doused in a black soft touch matte finish, it
looks a bit too plain
in comparison to the more stylish finishes we've been seeing on other comparable iPhone 5 battery cases. Nevertheless, it does help to
maintain a cleaner appearance
. Naturally, the handset's
overall sized has been bulked up
considerably, which isn't a surprise, but there's a noticeable amount of real estate added towards the bottom edge of the phone where its Lightning cable is discretely hidden away. Unfortunately, it's a bummer that we're required to carry around the included 3.5mm extension cable because the jack itself is buried very deeply in the case.
Although we appreciate the soft feel of the case, the
sharp edges
of the case's trim definitely digs into our hands as we grasp it. In the rear, we can clearly make out where the
1,500 mAh battery
is housed – and on it, there's a flush button that accordingly turns on the blue LED lights to indicate how much juice is left. Not too far away, there's a microUSB port that charges the internal battery when it's connected to a power source. Indeed, it's not the most interesting or versatile battery case out there, but for
$80
, people might see the value in this all-in-one solution. Protect and charge on the go!
More iPhone 5 battery cases