PowerSkin SpareOne hands-on
4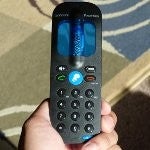 So here's the plan. You've won a million dollars, but the only way you'll be getting it is by living out in the woods in a cozy cabin for the next 14 years of your life waiting for a phone confirming the inevitable. Well, the catch is, you're not allowed to have any sort of contact with the outside world – meaning, no electricity whatsoever. Thankfully, if you happen to have PowerSkin's trusty
SpareOne
phone, you won't ever need to juice it up via an outlet, well, that's because it runs on a
single AA battery
.
There's no arguing about it, but the
PowerSkin SpareOne
is as basic as it gets with a phone, since it sports that oh-so yesterday candybar design that has gone out of fashion. Still, we're amazed that this all-plastic device is
super lightweight
, and in fact, it's airy light enough to make us believe we're not holding anything. Indeed, its design cues are straightforward, with its pronounced elongated appearance and super-sized physical buttons. Naturally, the only thing you'll be doing with the SpareOne is making and receiving phone calls – plus, using it as a flashlight thanks to
LED light
it's packing on its top edge. Initially, it appears to be sporting a display, but rather, it's a bluish translucent piece of plastic that prominently showcases the AA battery it's hiding inside.
Above all, the coolest thing about the SpareOne is that it's rated to provide
10 hours of talk time
, and an even mind-boggling
15 years of standby
! Well, it's specifically to offer that much longevity using the included
Energizer Lithium AA battery
. No doubt it's the perfect spare phone for emergencies, which you can stow away in places like your car's glove compartment, thanks to the dedicated emergency service button on the phone dedicated to call 911. Moreover, this
dual-band GSM phone
is unlocked and ready to accept any kind of SIM card. Making a phone call, we're content with the audio quality produced by the handset's earpiece, so at least it'll be sufficient to convey your messages to people.
For its generous battery life, we're even surprised to find the SpareOne retailing for
$49.99
through SpareOne's web site. Want to learn more, then check out our hands-on video of it below!