iKit NuCharge iPhone 5 Battery Pack & Case hands-on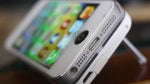 Some people prefer to retain the beautiful aesthetics of the
iPhone 5
, since you know, it has an iconic design and premium construction that continually makes it a prized possession. However, others are willing to make the compromise in masking its beauty with some kind of battery case. Now, we've checked out a handful of battery cases for the iPhone several times in the past, but the
iKit NuCharge Battery Pack & Case
seems to be one versatile thing worth putting on the lovely looking smartphone.
Sure, the
iKit NuCharge
still adds some size when its
1,900 mAh battery pack
is attached, but compared to some others, it's actually not quite as considerable as others. Interestingly enough, the iKit NuCharge is comprised out of a see-through clear plastic snap-on case, a stylish cover, and an attachable battery pack. With our pre-production unit, we like that all of the iPhone 5's ports and buttons are easily accessible – so there's no problem trying to use larger sized jacks for the headphone port. Also, there's a
hint of style sprinkled to it as well
with the aluminum finish of our attachable cover – though, some would argue that it's a bit inconvenient having to switch between the stylish aluminum cover and battery pack.
Regardless of that, it's very useful that we can go from a streamlined and stylish looking case, to something that will juice our device on the go. Checking out the battery pack attachment, its polished white plastic construction
maintains a very clean finish
– and its dimensions are flush to the iPhone 5's size. On one side, there's a button that activates the battery, while on the other, four LEDs light up to indicate how much juice is left. Lastly, on the bottom edge of the battery pack, there's a microUSB port to charge its internal battery and a removable Lightning cable that's used to juice the iPhone.
So how's the charge? Well, at 15% battery left, we started charging the iPhone 5. After 2 hours of being connected, it finally brought it back to the 100% level, which is a bit lengthy to say the least, but somewhat comforting at the same time, two of the LED lights went on to indicate that there's still some juice left in it. As for the
kickstand
, it's nice to find it here, but it doesn't feel sturdy at all – so we hope it'll be more solid with the final product. All in all, some might find value in this
$59
battery case, which comes with the battery pack and the silver aluminum cover.