Best extended battery cases for the iPhone 5
7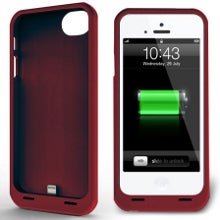 Due to its thin and light design, the
iPhone 5
is prone to getting into a case quickly for various purposes, without adding too much bulk and weight, as it would be with a larger or heavier handset.
One such purpose is extending the battery life of the phone with an add-on unit integrated in a case. Some makers are taking their sweet time (looking at you, "coming in the spring" Mophie!) after the initial handset launch to develop and test such wrappings with the new Lightning connector, but now major brands have come with battery case versions for Apple's newest iPhone, some due to be released as soon as this month.
In the meantime, Chinese companies are filling the void, but the reviews of their products often find it adviseable to wait for a reputable brand to release a more solid battery case for the newest iPhone. We saw a few very intriguing offers at CES that will hit the stores soon, though, that's why we are listing some of the best battery cases that can double the mileage out of your iPhone 5 and more, in the slideshow below, so check it out if you are in the market for one.