Possible prototype Nokia Lumia 950 image emerges
37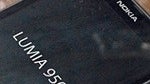 Last summer,
a leak over Nokia's Remote Devices Access (RDA) program
revealed a number of devices that were then in the works.
Among those devices we saw reference to the impressive Lumia 920, the current flagship making waves around the world. We also learned of a references to a Lumia 950 and Lumia 1001. While rumors of a
Lumia 1000 series device have been floating around
, we still know very little overall.
However, the guys at WPCentral were offered a tip by way of a picture of an alleged Lumia 950 prototype. While the picture appears solid, there are some caveats. First, the source is not well known, and the way the home button appears to be a sticker rather than a physical button. That has been see on previous prototypes though.
Spec-wise, one of the priorities with the next generation of Lumias is battery efficiency. The screen is said to be 1280x768 as a part of that goal. The camera, while not a 41MP PureView sensor, will be an improved component over the current line-up, featuring "lossless zoom," oversampling, better low-light performance and a xenon flash.
The Lumia 950 will debut as part of a "back to roots" campaign, akin to the Nokia N95-era. We are certain that if this device makes it to market, it will feature the various colors that Nokia has made a cornerstone.
What do you think? Is this the real deal of things to come?
source:
WPCentral