Five new Nokias leak in RDA: Nokia 510, Belle 805, Lumia 920, 950 and 1001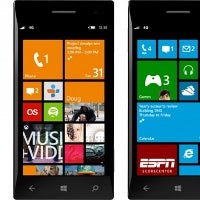 Nokia shares are hitting a 16-year bottom today, but as the Finns are losing more and more of that scarce investor patience, a leak straight out of Nokia offices comes to save the day. It's not just the Nokia Lumia 1001, that is coming, there's a total of five new handsets that Nokia is likely to bring to market soon, according to devs tinkering with the company's Remote Device Access (RDA) program.
Basically, what the RDA does is allow programmers to test their apps on a remotely located Nokia device, so they don't have to buy the gadget themselves. Imagine a room filled with Nokia devices, all easily accessible remotely. This full access allows devs to see nearby Wi-Fi networks and other devices, and that's exactly how five new Nokia devices were first spotted.
The Nokia 510 and Nokia Belle 805 are the first two and it seems these are a pair of Symbian devices. The 510 looks like a successor to the low-end Nokia 500 and it's likely to be a basic smartphone for an affordable price, while the Belle 805 if released should be a simplified version of the PureView 808.
Next, we have three new handsets running on Windows Phone. The Nokia Lumia 920, 950 and 1001 showed up on the RDA program. The 920 and 950 look like a continuation on the Lumia 900 theme, but we have no details about them, just guesses.
The Nokia Lumia 1001 is the last mysterious Nokia phone and judging by the model number, if it indeed gets unveiled it should bring some sufficient innovation in the ecosystem. In any case, the last three phones will likely get Windows Phone 8, too.
source:
Nokiapoweruser
Thanks, anonymous!