Possible Asus PadFone Infinity successor appears in benchmarks
9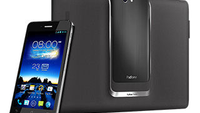 The Asus PadFone Infinity is not your typical Android device. For those of you who aren't familiar with this peculiar gadget, it is a high-end smartphone with all the bells and whistles that comes bundled with a tablet dock. Snap the two together and – ta-da – you get a 10-inch slate powered by the handset's hardware.
Now we have reasons to believe that
a new PadFone device from Asus is to be announced in the coming months
. The contraption has been allegedly spotted on AnTuTu, listed as the Asus PadFone Infinity A86 (the current variant bears the A80 model name). Specs include a Snapdragon 800 SoC and 1080p display, with Android 4.2.2 running the show.
What adds more credibility to this rumor is the recent certification of an Asus PadFone Infinity variant. The device has been spotted in Taiwan, with a T004 codename attached to it.
This rumor of a possible Asus PadFone Infinity successor comes right after the company hinted that
it might try to enter the US smartphone market
with a new smartphone. Also, word on the street has it that
a super-slim Asus slate is currently in development.
Whether the mysterious PadFone Infinity A86 would be any of these devices remains unclear.