Poll results: battery wins again in a fight between the 4 announced Moto Mods
5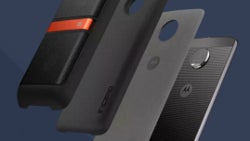 So, Lenovo is getting ready to launch the new Moto flagships — the
Moto Z Droid
and
Moto Z Force Droid
— and they will be backed up by a special squad of modules. Both smartphones have a set of contact pins on their backs, which allow them to accept snap-on-snap-off shells, called
Moto Mods
. These all do something different each, and there will be a Moto Mod developer kit available later to allow 3rd parties to jump in on the fun, too.
Rumor is that these will hardly be cheap. So, we thought we'd ask you – if you are to get a Moto Z or Moto Z Force, which Mod would you go for at launch day?
Perhaps it's not much of a surprise, but most of the voters went for the Power Pack mod. Sure, the JBL SoundBoost Speaker and Insta-Share Projector both offer an extra battery, but only around 1,000 mAh. The snap-on Power Pack gives you an easy extra 2,200 mAh — quite generous. Some said they'll get a combination of the projector and JBL speakers for full on multimedia power. Others prefer a mix between a style shell and battery pack. And a small percentage even said they'd shell out for all 4 Moto Mods at launch. Well... good for you, guys!