Moto Z Droid, Moto Z Force Droid, and Moto Mods hands-on: coming soon to Verizon
24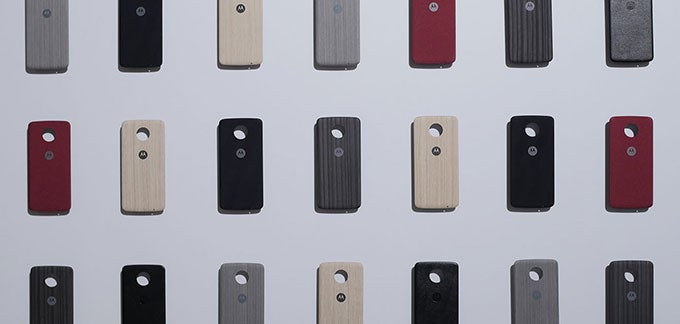 The year's hottest new smartphone trend may just be modular design, letting users add functionality to their phone by swapping in and out extra hardware.
LG got the ball rolling with the G5
, but
limited availability of its so-called "LG Friends"
has managed to take the wind out of those sails a little. And while we look forward to seeing what
Google manages to deliver in terms of its modular Project Ara phone a little later this year
, right now the most promising names in modular phone hardware are Lenovo and Motorola, with last month's launch of the
Moto Z
,
Moto Z Force
, and the Moto Mods platform.
We've already brought you
hands-on looks at the super-thin Moto Z
, the
Moto Z Force with its shatterproof screen
, and Moto Mods add-ons like the
Moto Insta-Share Projector
and the
JBL SoundBoost Speaker
, back when the hardware was first announced. But now we're coming up on time for the Moto Z family to finally get ready for its retail release, where here in the States we'll see the phones arrive as the Moto Z Droid and Moto Z Force Droid for Verizon.
As Verizon gets ready to share its release plans for the new Motos, we checked back in with the handsets as they'll be landing at the carrier, getting another up-close look at both well-equipped Androids, as well as the family of Moto Mods accessories that will accompany them.

Moto Z Droid and Moto Z Force Droid
As you may recall, Motorola's managed to cram a lot of phone into one insanely thin package for the Moto Z Droid, squeezing a top-of-the-line Snapdragon 820 processor, big 4GB of RAM, 5.5-inch 1440 x 2560 AMOLED display, and 2,600mAh battery into a body that measures under 5.2mm thick.
The Moto Z Force Droid starts with the same basic hardware and adds a few upgrades. While it's got the same 5.5-inch quad-HD display, Motorola blesses that screen with the same ultra-durable ShatterShield construction as
last year's Droid Turbo 2
.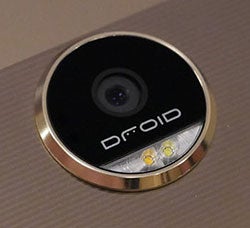 We also get a camera upgrade: while the Moto Z Droid offers a very respectable 13MP main camera with optical image stabilization and laser-assisted auto-focus, the Moto Z Force Droid bumps that up to a 21MP shooter while adding phase-detection auto-focus for even faster subject acquisition (both models feature 5MP front-facers).
There is one big trade-off with the Moto Z Force Droid, as it's not quite so super-thin, coming in a hair under 7mm thick. That space doesn't go to waste, though, as Motorola upgrades the phone's battery to a 3,500mAh component.
Both handsets provide fingerprint scanners, USB Type-C interfaces, and the sort of polish we'd expect from a manufacturer's annual flagship model – and that's saying something, with Motorola managing to keep the Moto Z Droid feeling solid even with its incredibly thin frame. But the phones themselves are only half the story here, and we came to see what the Moto Mods can do.
Moto Insta-Share Projector
If you want to really impress someone with a demo of what's possible with modular smartphones, look no further than the Moto Insta-Share Projector. The 11mm-thick pico projector easily snaps right on the back of the Moto Z Droid or Moto Z Force Droid with the help of some impressively strong magnets, solidly holding the projector in place as the phone's software recognizes the Moto Mod and gets ready to share its screen with it.
The projector's 50-lumen output may struggle to be seen on a bright day or in well-lit indoor environments, but pull down the shades, or wait until the sun dips under the horizon, and you've got a portable movie theater, all ready to go.
Maybe the most impressive thing about the Moto Insta-Share Projector is the way it's able to automatically adjust its output for the screen (or wall, or sheet, or whatever) it's being displayed on, correcting keystone and focus on the fly – and you can always manually tweak both of those in a pinch. Its internal 1,100mAh battery should be sufficient for an hour or so of playback, and it can always tap into the connected phone's battery for a little extra juice.
JBL SoundBoost Speaker
Speakers may not sound as fancy as a portable projector, but they're arguably a lot more useful. The 13mm-thick unit pops on the back of either Moto Z Droid phone and offers a pair of 3-Watt stereo channels to pump out your favorite tracks. Its 1,000mAh internal battery is good for around 10 hours of playback (at conservative volume levels), and its built-in kickstand lets you prop up the phone for some tabletop audio or video action.
Power Pack
You may have attempted to extend your phone's battery life with a case that included its own external battery, but the various Power Pack Moto Mods give users the same access to extra charge while maintaining a purpose-made, premium look.
Options like the Incipio offGRID, Tumi, and even a designer kate spade Power Pack are on the way, each delivering extra juice (2,200mAh in the case of the Incipio unit, good for up to 22 hours of additional phone life) to keep you operating throughout even the longest day – and into the next. Select models will also support wireless charging, for keeping them full of power when you need it.
Moto Style Shell
Not every Moto Mod is about extra functionality, and sometimes you just want to switch-up your phone's tired old look. That's just what the various Style Shell options are for, letting users easily pop protective and stylish new back panels on their Moto Z Droid phones with the help of the same strong magnets that hold even the bulkier Moto Mods in place.
More than offering a variety of colors, Style Shell options include a variety of material selections as well, including wood and some interesting textured backs. And measuring only 2mm thick, you can slap one on your Moto Z Droid without drastically changing the feel of your handset.
Stay tuned for Verizon to reveal all the details of its Moto Z Droid and Moto Z Force Droid retail launch, including pricing and availability specifics.