Poll results: Is Samsung's Dual Pixel camera tech on the Galaxy S7 true phone innovation?
52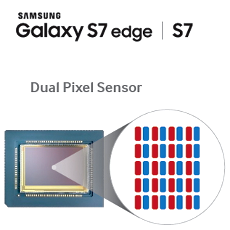 The Dual Pixel sensor on the
Galaxy S7
and
S7 edge
employs two photodiodes for every single pixel, so instead of 5-10% of the dots being used for focusing (like on the
iPhone 6s
or
Note 5
), all of them take part now. While not a unique camera technology, that's the first time it's being used in a phone, and the implications for focusing speed and accuracy are huge, especially with moving objects, live footage, or in low-light scenarios. That is why we asked you last week whether you consider this true phone innovation, and the answer was overwhelmingnly yes, boding well for Samsung's future iterations and employment of the Dual Pixel technology.
We are pretty spoiled these days when it comes to what our phones can offer, to the extent that a pretty svelte handset like the
HTC 10
has been called unremarkable in many a review around the Internets just because it doesn't offer that little something extra that can make it unique, like a curved panel, a modular design, or a 3D-touch display.
These, however, while intriguing, aren't indispensable and used on an everyday basis by their respective phone owners, as anecdotal evidence, and most of our polls show. For something to be called "innovation," no matter how overused this word is nowadays, it has to be both unique and truly useful. Samsung's
Dual Pixel camera technology
ticks both boxes, as no other handset has it, and it really adds to the camera experience, catapulting Samsung to the top place in the fastest phone shooters as per our own measurements, not to mention how crazy fast the continuous autofocus behaves while shooting video in any condition.