Samsung talks Dual Pixel: a stepping stone to brave new phone cameras
19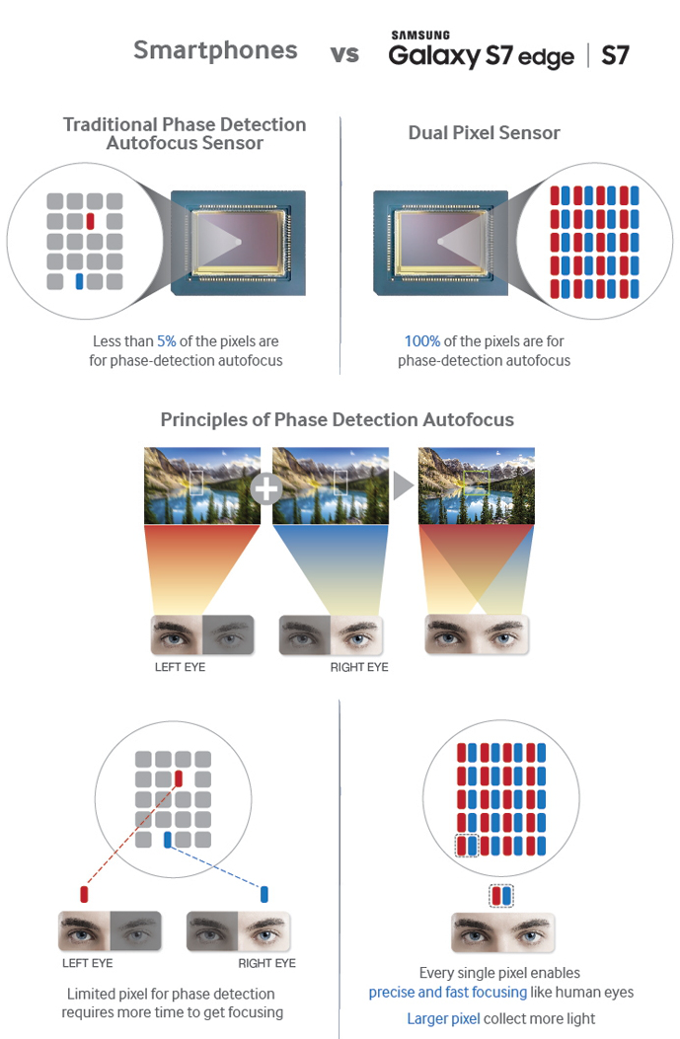 Samsung is talking
Dual Pixel
in its newest posting about the
Galaxy S7
and
S7 edge
, and how it arrived to the trailblazing use of the ultrafast focusing technology in its newest phones. It turns out that there has been a lot of soul-searching in Samsung's R&D department on which of some promising camera technologies to shrink and use in a smartphone sensor. One of the candidates, which uses two photodiodes on each pixel for focusing, demonstrated clear advantages not only in focusing, but also in low-light conditions, which is an improvement that all users want, so Samsung decided to stick with that one, and dub it Dual Pixel.
There were many challenges for implementing it in a smallish 1/2.5" phone sensor, of course, as so far the camera team hadn't dealt with anything like this. They even took a DSLR camera and an S7 prototype, and lugged both around, searching for conditions where users typically take pictures, even at near-complete darkness, and then compared and fine-tuned the phone camera results.
In essence, Samsung is looking at Dual Pixel as a stepping stone towards a brighter phone camera future (pun intended), saying that this tech will be an "
established infrastructure in which a smartphone camera can further evolve
," and will be used to offer scenes and modes that were so far thought impossible, at least for a tiny handset camera. As per Youngmin Nam, senior manager of the Global Product Planning at Samsung:
Building in this dual pixel technology is an example of practical innovation. We tried to introduce what people really needed rather than showing off new features. We found a solution to satisfy these practical needs, and ultimately created a camera with which a user can conveniently use dual pixel technology and take a picture of whatever scene they want to at any moment.