Pixel Sounds app in Play Store will offer new options for alarms, notifications and ringtones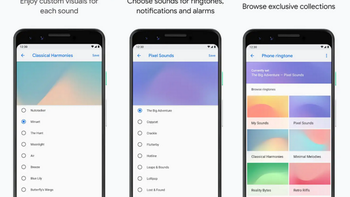 Those with a
Pixel 2
,
Pixel 2 XL
,
Pixel 3
and
Pixel 3 XL
received their December update yesterday
containing 13 functional patches
designed to take care of various issues. For some reason, the original
Pixel
and
Pixel XL
did not yet receive the update. Consumers sporting a 2017 or 2018 Pixel will notice after installing the December update, that under the My apps & games tab in the Google Play Store, an app called Sounds was updated.
The Google Play Store listing
shows that with the Sounds app, Pixel users will be able to "Choose your favorite sounds for alarms, ringtones, and notifications." It also says that the app will allow users to "Download new sounds that are only available on Pixel." The update to the Sounds app that comes with the December security patch adds "Updated design" and "Different collections to fit your style." Not much to go on.
From the Play Store listing, it appears that each sound receives a custom visualization, and once the app goes live (seems that Google might have jumped the gun), Pixel users will see different UIs for the Phone ringtone, Default notification sound, and Default alarm sound menus. With the new interface, the currently selected sound is listed at the top of the screen with the appropriate visualization in the background (view image at the top of this article).
Screenshots from the Play Store reveal that there will be six different "collections" to choose new ringtones from. They include My Sounds, Pixel Sounds, Classical Harmonies, Minimal Melodies, Reality Bytes and Retro Riffs.
Recommended Stories