Pebble Health app now available for Pebble Time watches
2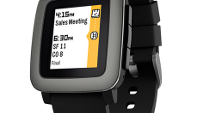 Pebble has introduced a new health related app that is compatible with its Pebble Time smartwatches. That includes the Pebble Time, Pebble Time Steel and the Pebble Time Round. Pebble partnered with Stanford University to develop the app, which counts the number of steps that a user takes daily, and also tracks his/her daily sleep activity and compares it to a weekly average. Pebble Health will learn a user's routine and will tell the user when he has been dragging, and could use some extra sleep.
The app is free, and will share data with Apple Health and Google Fit. Pebble Health works with Pebble Time's Timeline feature, and can figure out when the user has time open in his daily schedule to exercise. While developers can't build apps based on Pebble Health at the moment, the smartwatch manufacturer will be offering a new version of its SDK next month that will allow developers to take advantage of the app's features.
Developing the app was important for Pebble, whose Pebble Time watches now have some of the capabilities that the competition has had for some time. With most handset manufacturers now in the smartwatch business, Pebble is not necessarily at a disadvantage since its timepieces pair with both iOS and Android phones.
Pebble Health will be available to Pebble Time users after they update both the Pebble mobile app, and the firmware on the watch itself.
source:
arstechnica
via
TheVerge,
MobileSyrup
Recommended Stories